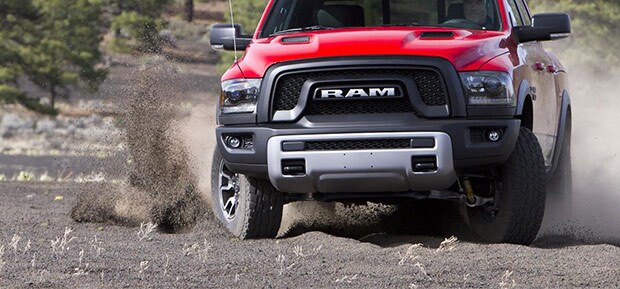 You might have heard that there's a deal like no other and that it's only here at Scott Campbell Dodge; where nobody can beat our prices. Right now you'll find 25% off MSRP on our remaining in-stock 2018 RAM 1500s. Wondering why it's only here? Read on to find out!
Exclusive Deals, Beyond the RAM Offers
When most dealerships offer deals on their signature product lines, that's because the entire country is offering those exact same deals. At least, the region or province is offering the same deals. These deals might be good enough for some, but we like to do better. Our goal is to give you the best deal out there, and that's why we go above and beyond the national offers.
Our current 25% off MSRP offer is just that. We've sliced and diced the numbers with our accounting department to give the best deal in the province (maybe the country!). We've only cut from our bottom line to ensure that we're loading discounts on top of the national offers. Our new in-stock 2018 RAM 1500s are here, and ready. You'll find the discounts listed on each vehicle page. From there, contact us to set up a test drive and we'll hit the road.

The 2018 RAM 1500
As it stands, the RAM 1500 is a great value, especially compared to other trucks in its class. It as Canada's best-selling V6 and V8 engines and is full of features. The RAM 1500 starts at $28,095 for a base model, and others have over $17,000 off here at Scott Campbell Dodge! We've discounted each and every one of ours to give you the best deal on an award-winning truck.
The truck has an interior like no other. There are trim options for everyone, including leather and mess-free fabrics; a selection of up to 160 different options for your seating comfort. You'll find 7" touchscreen with our exclusive Uconnect infotainment system. You'll find tons of storage and Apple CarPlay, as well as Android Auto. It's powerful with impressive payload and torque capabilities, as well as sleek with different style options on the outside. Whether you're sporty or sleek, the different looks of the RAM 1500 are ripe for the picking.
Find yours online
today.