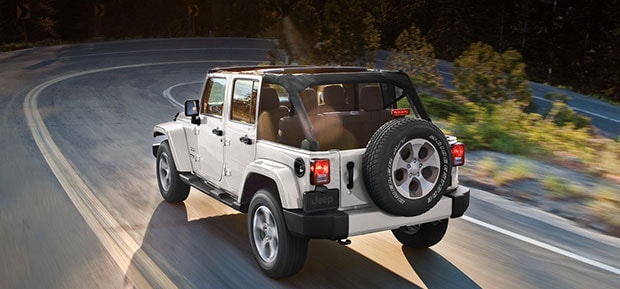 Jeep is one of the most romanticized and envied brands in the world.
It isn't just one thing that makes the world stop and turn when a sleek Wrangler drives by, but the full package. As Jeep pros, we know why we love them and why our customers do too.
The Jeeper Wave
It's something that you might not have heard about, and many people don't believe that it's real until you experience it. The Jeeper wave is a long-standing phenomenon with unknown origins. Wherever it came from, we love it. The Jeeper wave is what happens when two Jeep drivers cross paths. One will start the wave with a flip of the hand off the wheel in the other's direction, and the second Jeeper will reciprocate.
What happens after that? Everyone leaves the encounter feeling like part of a special club, and that's exactly how it should feel. The Jeeper wave isn't just for Wrangler owners, but Jeepers of all denominations, such as the Compass and Cherokee. Just like owning one, those little moments behind the wheel make you feel like one of the pack.
Take one of our Jeeps for a test drive and we'll bet you'll get your first Jeeper wave.
Jeeps are the Best Off-Road Vehicles
That's right, we said it, and we're proud of it. Jeeps have a reputation as tough-mudding off-road vehicles. We've yet to encounter an off-roader who has tried it and said otherwise. Off-roaders love Jeep Wranglers and their special editions. Whether you opt for a hard top or soft top option, you can still get down and dirty in the mud.


Why go off-roading with a Jeep?

Superior ground clearance to get you out of ruts and over rocks

The doors come off (need we say more?)

There are enough "holy crap" handles for everyone

That extra tire isn't just for looks, it's practical and it isn't a dummy tire

Class-leading suspension technology and incredible torque

Manual and automatic transmission options
You Can Customize Your Jeep to be Unique
It's true, you can customize any vehicle. With that being said, it's the most fun to customize a Jeep. There are many great examples on the streets and on the net, and it's easy to get excited and start a custom project of your own. With our Mopar parts and accessories, the options are endless. You can contact our parts department to get started; we'll help you source parts that meet your needs, or just your wants.
Some great Jeep customization options include:
Custom lighting: headlamps, undercarriage lighting, and more
Roll bars
Lift kits
Off-road wheel and tire kits
Winches
Custom paint (nothing beats a yellow hardtop)
Lifestyle accessories like bike racks and carriers
Not sure what customization options are best for you needs? Chat with one of our specialists today and they'd be happy to point you in the right direction. Just another one of the ways that we help Saskatchewan Jeepers enjoy their rides even more.