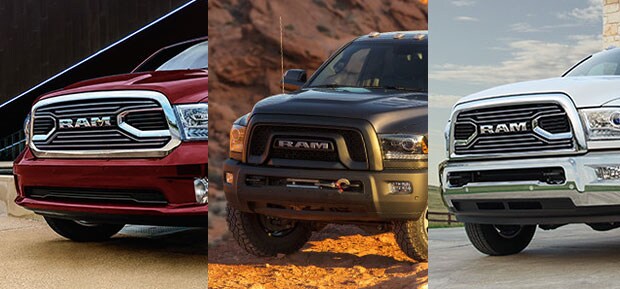 The hardworking people of Saskatchewan need trucks that work as hard as they do.
The hardworking people of Saskatchewan need trucks that work as hard as they do. It's for this reason that we're proud to offer our line of diesel Ram trucks. Whether it's on the farm, in the field, or on the job site, Ram trucks can work the long days and tow the heavy loads we need them to. The people of our province never give up, and we're excited to offer a truck that doesn't either.
Choosing a gas or diesel truck
The Ram 1500. 2500, and 3500 are all Ram trucks we're excited to offer, but before you decide whether gas or diesel is the right fit for you, you should be asking what you need from your truck. Diesel Ram trucks are renowned for the amount of torque they produce. Higher torque means higher towing capabilities. Our diesel engines are built to tow long and hard with, unparalleled endurance for hauling on our highways. If you're looking to pull an RV, boat, or heavy horse trailer a long distance a diesel truck is the right choice for you. Tow with confidence by towing with a Ram.
Dodge Ram 1500
The smallest diesel truck in the Dodge family doesn't know that it is, and being the only truck in its class available in diesel, it's a popular option. The 3.0L EcoDiesel V6 can produce up to 240 horsepower at a remarkably low 2000 rpm's that gives it the 9,240 lbs towing max towing capacity that truck owners need. The Ram 1500 is the perfect all-arounder. It's ready for a hard morning on the job, or running errands in town.
Dodge Ram 3500
When you need to go big and get it home, there's nothing built tougher than the Ram 3500. The 6.7L Cummins Turbo Diesel produces a 386 horsepower capable of towing up to 31,210 lbs. With that kind of capacity, there isn't much the Ram 3500 can't handle. Towing isn't everything though, and just because the truck is tough doesn't mean the seats need to be. The seats are designed to be comfortable, but also not to get in the way of a hard day. In the crew cab model, they fold flat giving it class-leading space in the cab. Couple that with the in-floor storage to tuck away your work gloves and your truck won't be breathing heavy or looking messy after a hard day on the job.
If it's only a diesel that will see you through to the end of your day take, a look at the selection of diesel trucks that work as hard as you do. To book a test drive or ask a question call our diesel experts at 888-223-3287 or take a look at our inventory of Ram trucks online.